There are many things you look for before buying to save yourself from further complications. Likewise, you might come across the good and bad before picking the offshore shared hosting. Good hosts can differentiate from bad hosts in pricing, service quality, hardware, technical proficiency, and location. In order to select the best offshore web host, it's good to get familiar with offshore web hosting providers.
What is the meaning of offshore shared hosting?
Offshore web hosting is also known as offshore shared hosting that comes along with offshore perks. The offshore perks are available from the hoster's policies chosen deliberately. The hosting is supported by designated server locations and business registered countries.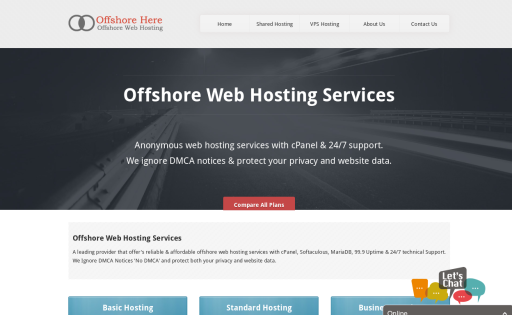 If the hosting company is registered in the US, but their servers are located in some other country or vice versa, they cannot be considered offshore.
Therefore, you need an offshore host and their respective servers that are registered in an offshore location. And make sure that they don't sell any other services onshore.
What does offshore web hosting allow?
By default, all offshore hosts allow adult content, gambling, and copyrighted material. Some servers depend on the offshore hosts that allow mass mailing. They ignore all copyrighted abuses, like DMCA (Digital Millennium Copyright Act).
Don't fall for the illegal activities with offshore hosts, like fraudulent websites, phishing, spam, spoofing, and DDoS scripts. These are generally allowed on bulletproof hosts, and only on dedicated servers, but not on shared hosting.
Be smart with your choose of offshore web host providers
Make sure you check they use their own servers and don't resell from a cheaper host.
Always ask the offshore host to confirm that they use their own hardware, have an established datacenter location, and have a verified IP address. Do a background check on the IP and to find out who owns it. In case you noticed that it'd controlled by another offshore host, then they are resellers.
Pick an offshore that offers money-back guarantee
An optimal money-back guarantee would be for 30 days. Confident offshore hosts who ace in providing the best quality of services wouldn't mind giving you a refund.
Challenge the technical support with a complicated question
A slow response for your question indicates is a bad sign. This implies that the entire business is being hosted single handedly, which means they lack a technical staff. A response written in non-native English with grammatical errors proves they are outsourcing.
Never pay for absurd prices
It's tricky explaining who's unfamiliar with offshore hosting.
So, here's the list of great pricing that will help you choose offshore website providers responsibly:
AbeloHost.com and OffshoreDataLabs.com provide the best qualities of established hosts and incorporate on their own. These offshore hosts offer a 30-day money-back guarantee.

ShineServers.com is great for beginners who wish to build their own website. They have shared hosting options that have an integrated website builder.

The other offshore host providers, like Flokinet.is and Koddos.com, provide a safe haven for freedom of speech and whistleblower projects. They're also specialized in data security and offshore hosting solutions.